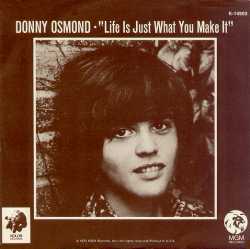 A twist on Love Thursday...
Donny Osmond, my first love.
I would spin this 45 for ever on my little record player, or hide from my sisters and stare at his picture -- under the table in the dining room.
I was going to marry him.
I don't know what happened.
Maybe it was Davy Jones, or Leif Garrett. Soon Donny was forgotten. That 45 and most importantly, THAT picture sifted to the bottom of my toy box, probably sold in a garage sale. Then, my daughter discovered Mulan...
I don't care what you say.
I still think he's cute.