My friend Sara over at
A Shower of Roses
just gave me my first Blog award!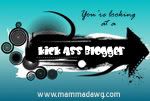 If anyone kicks ass it is Sara. She has to with 6 kids-- homeschool, carpool, lessons, church... Thanks Sara.
Now to pass on the favor here are a few gals I think Kick Ass too:
1.
T over at Anesthesioboist
a true renaissance woman -- medicine, music, dance, mothering she's got it all!
2.
Bridget over at Up the Irish
a pretty cool chica, bossed around by the responsible one for most of her life-- she learned to kick ass at a young age
3.
Colleen over at Sweaty Princess
this is a kick ass blog because she has such a great title... do me a favor, DO NOT GOOGLE her blog title...it's not pretty and the NetNanny would have a field day. She also learned at an early age to kick ass thanks to yours truly
4.
Julie over at JulienAndy
who after Wednesday's post about John Cusak, I have decided she must be a sister by a different mother...also check out her post on the
KROFTT SUPERSHOW
bring back memories for anyone else?
5. Finally
Carmen over at Mom to the Screaming Masses
because she continually amazes me, work, kids, writing writing writing. She is probably too big for this one, but I had to credit the chica who got me hooked on blogging in the first place